This is how you can access WhatsApp features before others
This is how you can access WhatsApp features before others
Around a couple of weeks back, WhatsApp announced a host of its upcoming new version.
The features offer new perks like controlling the visibility of WhatsApp media in your phone gallery, directly adding new contacts, custom topics, in-app YouTube playback and more.
Read more ↓
However, the official release is months away.
Yet, you can get your hands on the Android beta version.
Here's how.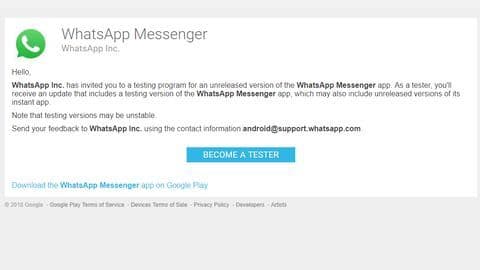 Signing up for WhatsApp beta via an internet browser
There are two ways to get your hands on the WhatsApp beta version for Android – you can either sign up via an internet browser or sign up on your smartphone via the Google Play Store.
For online registration, head to the WhatsApp beta page, click 'Become a Tester', and you're good to go.
You should receive a download link within a few hours.
Signing up for WhatsApp beta via an Android smartphone
Signing up via your smartphone is also a simple process.
All you have to do is head to Google Play Store and search for WhatsApp.
Keep scrolling down till you find the 'Become a Beta Tester' section.
Then, simply tap the 'I'm In' button and tap 'Join' to confirm.
Your WhatsApp should update to the beta version.
How to leave the beta program if things get hairy
If, after getting the beta version, you find that it's crashing way too often for your liking or has too many glitches, you have the option to opt out of the beta programme.
To do so, head to the beta page via a web browser or go to Google Play Store on your smartphone.
You should see a 'leave the program' button for both.
Source by newsbytesapp
Share:
loading...