The only chance for air travel in 1497 rupees, non-stop flights will start from these cities, see list of cities
The only chance for air travel in 1497 rupees, non-stop flights will start from these cities, see list of cities
Private sector airline SpiceJet is going to give new passengers in the new year. The airline is going to connect some of the cities in the new non-stop flight from January 20 next. A total of 12 new flights have been included. As the most special offer, SpiceJet is going to offer just Rs 1497 bucks (including all fees) for the journey. SpiceJet, a headquartered airline company based in Gururgram, has reported on its website spicejet.com, which says that the daily direct flights to be started will be circulated on Dehradun-Jammu, Dehradun-Jaipur and Dehradun-Amritsar routes. Apart from this, SpiceJet will also increase the frequency on Jaipur-Varanasi, Chennai-Madurai and Hyderabad-Vijayawada routes from January 20, 2019.
Such fare on these routes
SpiceJet announcement among the tough competition in the civil aviation sector of the country can be seen as a strong increase in the movement of passengers. SpiceJet's flight fares between Chennai and Madurai are available at Rs 1,497. Similarly, SpiceJet has offered promotional rentals at Rs 1558 on the Madurai-Chennai route. According to the news of NDTV, in addition, Rs 1,648 on Vijayawada-Hyderabad, Rs 2,200 on Hyderabad-Vijayawada, Rs 2,726 on Varanasi-Jaipur, Rs 2,766 on Dehradun-Amritsar, Rs 2,888 on Jaipur-Varanasi, Rs 2,995 on Amritsar-Dehradun , Rs 3,396 on Dehradun-Jaipur, Rs 3,787 on Jaipur-Dehradun, Rs 3,814 on Dehradun-Jammu and Jammu-Dehradun routes.
Read more ↓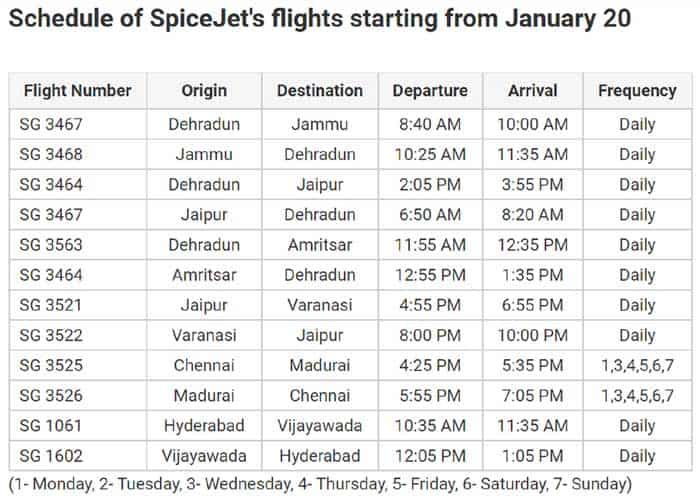 SpiceJet will include its Bombardier Q400 on all these routes, which will strengthen the airline network in North and South India, "SpiceJet said in a statement. Meanwhile, rival Jet Airways has announced a special discount of up to 50 percent on domestic and international flight tickets under a special 'Global Sale' offer. Jet Airways's Discount Offer – The premier and economy booking class on selected domestic and international flights is valid till January 11, 2019 on the base fares.
Share:
loading...