Siri Creators to Launch Viv Virtual Assistant on Monday
Siri Creators to Launch Viv Virtual Assistant on Monday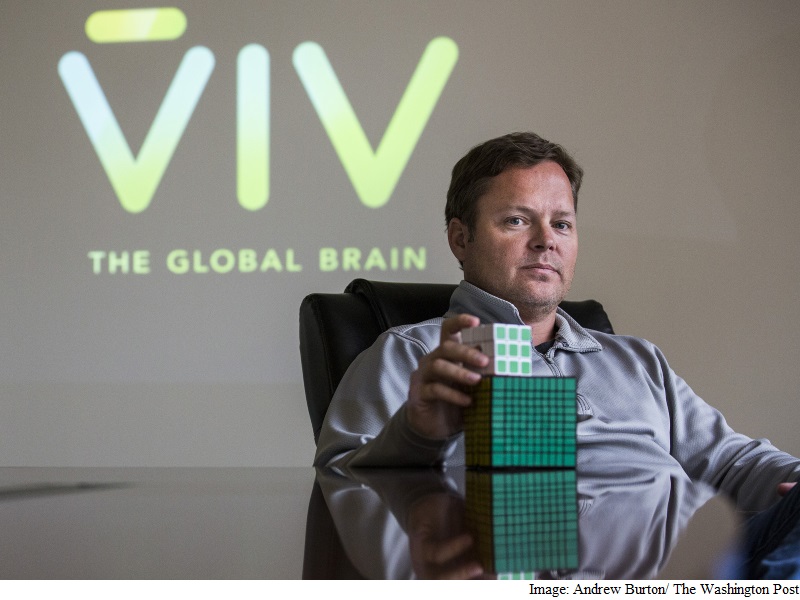 In an ordinary conference room in this region of startups, a group of engineers sat down to order pizza in an entirely new way.
"Get me a pizza from Pizz'a Chicago near my office," one of the engineers said into his smartphone.
Read more ↓
It was their first real test of Viv, the artificial-intelligence technology that the team had been quietly building for more than year. Everyone was a little nervous. Then, a text from Viv piped up: "Would you like toppings with that?"
The engineers, eight in all, started jumping in: "Pepperoni." "Half cheese." "Caesar salad." Emboldened by the result, they peppered Viv with more commands: Add more toppings. Remove toppings. Change medium size to large.
About 40 minutes later – and after a few hiccups when Viv confused the office address – a Pizz'a Chicago driver showed up with four made-to-order pizzas.
The engineers erupted in cheers as the pizzas arrived. They had ordered pizza, from start to finish, without placing a single phone call and without doing a Google search – without any typing at all, actually. Moreover, they did it without downloading an app from Domino's or Grubhub.
Of course, a pizza is just a pizza. But for Silicon Valley, a seemingly small change in consumer behavior or design can mean a tectonic shift in the commercial order, with ripple effects across an entire economy. Engineers here have long been animated by the quest to achieve the path of least friction – to use the parlance of the tech world to the proverbial pizza.
The stealthy, four-year-old Viv is among the furthest along in an endeavor that many in Silicon Valley believe heralds that next big shift in computing and digital commerce itself. Over the next five years, that transition will turn smartphones and perhaps smart homes and cars and other devices into virtual assistants with supercharged conversational capabilities, said Julie Ask, an expert in mobile commerce at Forrester.
Powered by artificial intelligence and unprecedented volumes of data, they could become the portal through which billions of people connect to every service and business on the Internet. It's a world in which you can order a taxi, make a restaurant reservation and buy movie tickets in one long unbroken conversation no more typing, searching or even clicking.
Viv, which will be publicly demonstrated for the first time at a major industry conference on Monday, is one of the most highly anticipated technologies expected to come out of a startup this year. But Viv is by no means alone in this effort. The quest to define the next generation of artificial-intelligence technology has sparked an arms race among the five major tech giants: Apple, Google, Microsoft, Facebook and Amazon have all announced major investments in virtual-assistant software over the past year.
Two of them Google and Facebook – have made offers to buy Viv, according to people familiar with the matter. (Facebook chief executive Mark Zuckerberg is also an investor in Viv through the firm Iconiq Capital.)
Viv also has the ultimate pedigree in the elite universe of technologists who strive to build machines that can talk to people. Its creators, Dag Kittlaus and Adam Cheyer, were also co-founders of Siri, the app that became the first widely distributed virtual assistant when it was acquired by Apple in 2010.
"It's about taking the way that humans have naturally interacted with each other for thousands of years and applying that to the way they interact with services," said Kittlaus, Viv's chief executive. "Everyone knows how to hold a conversation."
The goal is not just to build great artificial intelligence. Companies see in this effort the opportunity to become the ultimate intermediary between businesses and their customers.
Search engines were among the first of these "platforms," enabling Google to generate a fortune from organizing the vast array of Web pages for ordinary users. Then, with the rise of smartphones, came apps that pulled consumers out of desktop search into the mobile world. Apple and Google raced to become the gatekeepers of these smartphone programs by building app stores that take a cut of the profits.
But despite apps growing into a $50 billion business, consumer enthusiasm for most new apps is waning, according to ComScore and the analytics company App Annie.
"Little siloed chiclets, none of which speak to each other, living inside the walled gardens of rival app stores owned by Apple and Google," said John Battelle, a Web entrepreneur and the chairman of digital-ad company Sovrn Holdings.
Too much data used up, too many passwords to remember, too many useless notifications, concluded Dan Grover, product manager at WeChat the popular Chinese messaging platform that is helping make many apps irrelevant in a recent blog post.
Mobile users now spend 80 percent of their time in just five apps, according to 2015 data from Forrester. "It's just too inconvenient for consumers to hop in and out of so many apps," Ask said. "So consumers are consolidating where they spend their time. There's now a much bigger bar to get over if you're going to build an app."
Chris Messina, developer-experience lead at Uber, one of the most highly valued apps on the market, said that "apps will still have a place. But the landscape is going to get a lot broader."
Virtual assistants offer an alternative. But the difficulty, stemming back to the early artificial-intelligence efforts in the 1960s, has always been understanding the nuances of how humans talk.
Most virtual assistants today can understand a set of human questions. But those queries have to be stated in a precise way, and they trigger largely scripted responses. What distinguishes Viv is that it aims to mimic the spontaneity and knowledge base of a human assistant, said Oren Etzioni, chief executive of the Allen Institute for Artificial Intelligence in Seattle.
By working with data from movie-ticket vendors, Viv can understand the multitude of ways people can ask it to buy movie tickets. It can look up showtimes and, on its own, suggest entertainment alternatives from other vendors if the desired showing is sold out. And it can compare prices and then buy the tickets, along with making a restaurant reservation beforehand. If the user changes her mind, the assistant can take care of the cancellations and let her know it's done.
Grubhub chief executive Matt Maloney said he rushed to sign up with Viv two years ago, impressed with the idea of allowing consumers to perform different activities without having to toggle between services. "No one has been able to say, 'I want the movie ticket, and the bottle of wine, and some flowers on the side' all in one breath," he said.
Achieving that level of communication is a very high bar, Etzioni said. And no technologist has come close to achieving it. In a way, Viv's founders are among the staunchest adherents to the original Turing Test – the proposition, laid out by artificial-intelligence pioneer Alan Turing over half a century ago, that a machine has achieved intelligence if it can carry on a conversation that is indistinguishable from a human one.
"If it were anybody else, I'd say it was probably too ambitious," Etzioni said of the Viv team. "If anybody has a shot at doing this, it's them."
Viv's 26-person team has been toiling away for longer than just about anyone else. The effort preceded Siri and goes back to 2003, when Cheyer led a 300-person team at SRI International a nonprofit, government-funded research-and-development lab in Palo Alto, California working on a sprawling Defense Department project to create a next-generation personal assistant.
Read more…                                                                                      Source by gadgets.ndtv…
Share:
loading...