Samsung Galaxy Tab Iris launched, first commercial device to use Aadhaar data
Samsung Galaxy Tab Iris launched, first commercial device to use Aadhaar data
Samsung Tab Iris will be the first tablet in India to aid digital authentication and costs Rs 13,499.
   Samsung Tab Iris is the first commercial tablet to use Aadhar data and has just been launched in India.
In what is the first commercial device to tap into the Aadhar platform, Samsung on Wednesday launched the Tab Iris, a seven-inch tablet with integrated digital authentication in the form of an iris scanner.
Samsung India vice-president Sukesh Jain showcased how the tablet could pull up his Aadhar details by scanning his eyes. The product was designed by the company's R&D labs in Bangalore over the past 18 months. The device, which a selling price of Rs 13,499, is protected by Samsung Knox and sends only encrypted iris packets. It also has an open SDK letting developers create apps for the tablet.
Read more ↓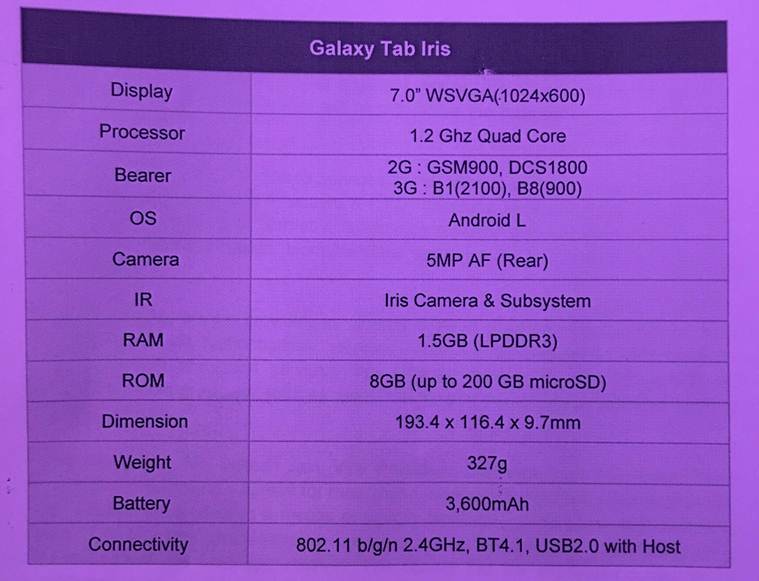 Here is a look at complete hardware specification of Samsung Galaxy Tab Iris
"Banking sector will be front runner in adoption and we forsee the telecom sector using it given the number of SIM cards they activate every month. Also, business correspondents who are crucial for financial inclusion will also use it," Jain said. He said it was too premature to say if government departments will adopt the tablet, but they have already started using digital äuthentication.
Interestingly, since a lot of other countries are also looking at Aadhar to create their own unique identification systems, Samsung could use the learnings here to tweak the product for other market.
Speaking at the event, TRAI chairman R S Sharma who was also one of the leads of the UIDAI project said a lot of pilferation happens in schemes like pensions because there is no way to authenticate the beneficiaries at the village level. "Aadhar is the most cost effective ID system in the world. It is also scalable and unique," he said, adding that it is multi-modal biometrics that offers uniqueness at this level. "India today gives about Rs 5 lakh crore as subsidy and in some states the PDS is about 130 per cent of population," he said, adding how just saving on duplication saves the government Rs 50,000 crore.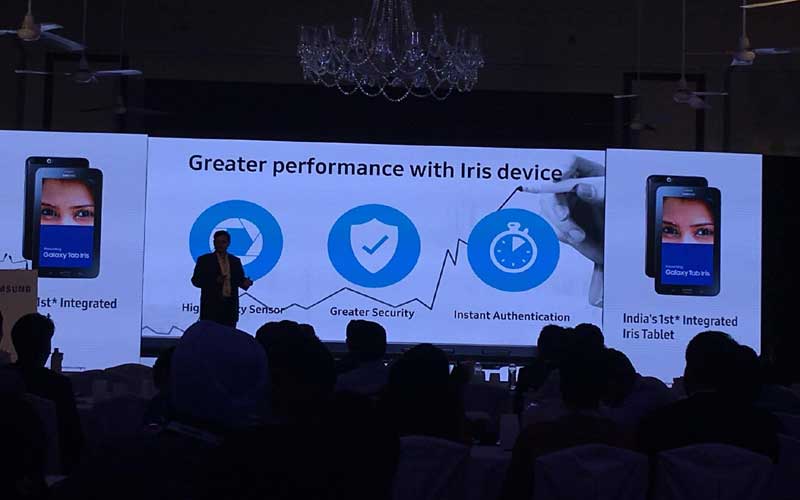 Sharma said that while iris has not really scaled up to the level of fingerprints, it is a much better mechanism of authentication. "People are yet to realise the power authentication and the use cases possible," he said, adding that he was happy to see the first commercial device in this space.
While Samsung has created one app to access the Aadhar database and is opening to create more reference apps, the company said it would be up to third parties to create more apps as the SDK and APIs are open. Samsung will focus on enterprise to sell the device as it sees the use case being limited to the "assisted mode" for now. There will be no retail sale of the device.
Source By indianexpress…
Share:
loading...