New age Mercedes-Benz Van Concept launched
New age Mercedes-Benz Van Concept launched
The technologies will integrate logistics business and consumer satisfaction factor all together.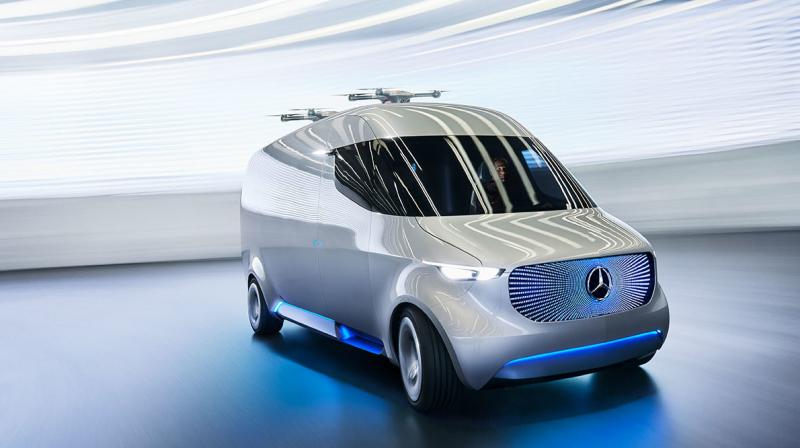 Mercedes-Benz Vans has been pushing this development forward and is vying to bring intelligence into its Vans. It is also concentrating on giving logistics a whole new direction, under its slogan advance. The focus is on connectivity and the internet, as well as various technologies that would be integrated into the Van to optimise the flow of materials.
Read more ↓

 "In 2020 Mercedes-Benz Vans will be a very different company to today. Not just because by then we will have brought innovative models into the marker, but because we will be completely changing our foundations." Explaining the new direction, Head of Mercedes-Benz Vans Volker Mornhinweg says, "We don't want to be driven by developments, we want to shape them from the forefront and transform ourselves from a manufacturer into a service provider."

According to Mornhinweg, the new direction for Mercedes-Benz is a reaction to urbanization of society. "In the next few years the cities will develop urban regions with new opportunities and challenges for logistic companies," says Mornhinweg. Alongside urbanisation, the digitalisation of society also poses new challenges for the logistics industry and in future electronic food shopping orders will also a play an increasingly important role. This is in sync with the increase in customer's expectations as they are demanding fast and reliable delivery.

"Our future customers need more than a transporter with four wheels," explains Morhinweg. "The van of the future will mutate into an integrated part of the digitised world and will know what has been loaded onto it, where exactly the goods are in the load compartment, the destination and when it will reach the customer."

That's why Mercedes-Benz Vans is working together with start-ups in Silicon Valley, where solutions for intelligent loading and delivery of goods will have a positive impact on the environment and companies' cost structures in the future, are being developed. The solutions range from transport with drones to self-driving robots that brings deliveries to the premises. "We don't want to be driven by developments, we want to shape them from the forefront," says Morhinweg.

Source by deccanchronicle….
Share:
loading...