Moto G4 Play Pricing Tipped To Be At ₹8,999
Moto G4 Play Pricing Tipped To Be At ₹8,999
Motorola is on a roll, launching new phones practically by the day. A new edition of Moto G4, called Moto G4 Play, will be out soon and is tipped to be priced at ₹8,999 as per a listing at the import website, Zauba.
Moto G4 Play is the budget version of Moto G4 and Moto G4 Plus. Moto G4 Play's upcoming launch was confirmed by Lenovo, Motorola's parent company, in May. This model has a 5-inch full HD display, as compared to the 5.5-inch display in the other two models. It runs on Qualcomm Snapdragon 410 processor and has a 2 GB RAM capacity.
Read more ↓
The camera specifications are a step-down too, which is understandable given Moto G4 Play's affordable pricing. It has a rear 8 MP camera with f/2.2 aperture, and a 5 MP front camera.The phone has a 16 GB internal memory capacity.
Happily, the G4 Play will run on Android Marshmallow 6.0.1 whereas most phones in this range are running the software based on Android 5.1.1 lollipop. It is unclear if Motorola plans to replace the Moto E series with this phone.
Moto G4 Play will be competing with devices such as Xiaomi Redmi Note 3, Le Eco 1S and Asus Zenfone Max. Each one of these has a unique selling point in the form of high-end specs, bundled premium content, and a giant battery life. It will be interesting to watch the kind of response the G4 Play gets.
Moto G4 and Moto G4 Plus were launched on 17 May. Both variants of Moto G4 Plus were available from the next day on Amazon at ₹13,499 and ₹14,999 respectively. The main difference between the two variants was of 1 GB extra RAM and 64 GB storage.
Moto G4 however, was launched only last month for ₹12,499 on Amazon. Unlike Moto G4 Plus, it had no fingerprint sensor and it had a 13 MP camera instead of the former's 16 MP camera. Motorola was selling mobile phones exclusively on Flipkart until this year when they switchedto Amazon.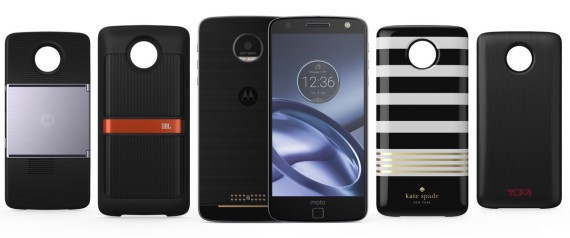 Meanwhile, at the Lenovo Tech World event in the US, Motorola launched their first set of modular phones Moto Z and Moto Z phones. Along with the phones, they unveiled three mods for added functions which could be clasped to the phone's backside. The three mods included JBL speakers, a projector and two stylish battery extenders. Motorola assured users that the modular design would remain unchanged in next iterations of the phone. It also announced the open source program for the mods.
Source By huffingtonpost…
Share:
loading...