HP Pavilion Wave, HP Elite Slice desktops with sixth-gen Intel i7 launched
HP Pavilion Wave, HP Elite Slice desktops with sixth-gen Intel i7 launched
HP launches Pavilion Wave and Elite Slice desktop systems for home and business use, starting at Rs 61,990 and Rs 62,990 respectively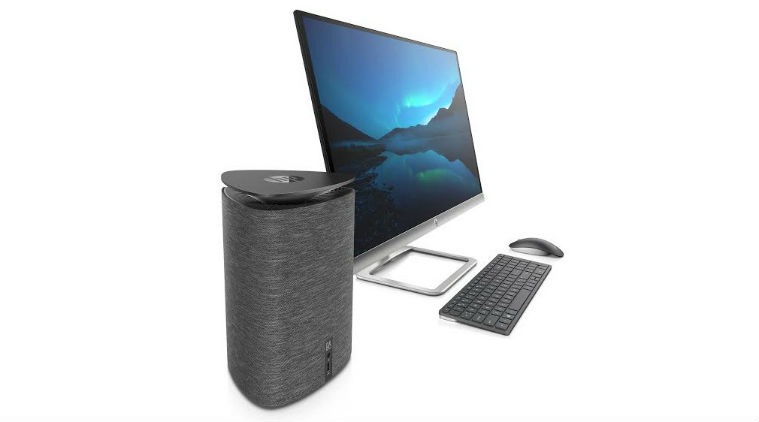 HP Pavilion Wave is backed by 16GB of DDR4 RAM, and an optional AMD Radeon R9 M470 graphics card
HP has announced two new two new PCs today – the HP Pavilion Wave and HP Elite Slice. HP is pitching the Pavilion Wave as an entertainment and productivity device for home. This desktop is built around a fully integrated audio system, with a triangular form parabolic reflector that gives 360 degree sound.
Read more ↓
HP Pavilion Wave houses a sixth generation Intel Core i7 quad-core processor. It comes with either a 1TB SSD or a 2TB HDD drive. The computer is backed by 16GB of DDR4 RAM, and an optional AMD Radeon R9 M470 graphics card.
Its design is built around a central audio system. A parabolic reflector on top of the PC reflects the sound coming from the speaker grille in parallel from all directions while also acting as an outlet vent for hot air to come out. The triangular design houses three main zones for components: the motherboard on one side, the hard drive on the second side and thermals on the third side. The thermal design uses heat pipes to extract heat from the motherboard and the graphics card to push out the top of the PC to keep the device running cool.
Other features on the Pavilion Wave includes connectivity via three USB 3.0 ports, one HDMI port, one DisplayPort, a USB 3.1 Type-C port and a Gigabit Ethernet port.
HP Elite Slice on the other hand is being marketed as a desktop for communications and collaboration. The modular desktop provides cable-less connectivity. The desktop is powered by an Intel Core i7 processor, with peripheral support for one HDMI, one Ethernet port, and one display port. Elite Slice comes with a 360 degree dual fan pipe ring to cool it.
The HP Elite Slice weighs in at 1Kg (approx), and features a mattle black design with polished copper accents. Additional features include an optional touch fingerprint sensor. The system also includes the new HP Elite Slice for Meeting Rooms solution.
"Today customers want sleek, innovative and powerful desktop designs that enable new experiences," said Ketan Patel, Director – Personal Systems Category, HP Inc. India. "The HP Pavilion Wave and Elite Slice are the result of HP engineers and designers reinventing the desktop by rethinking its shape, size and look while adding functionality to enable new use case."
Price of the HP Pavilion Wave will start at Rs 61,990 with consumers having a choice to buy HP Monitor separately. HP Pavilion Wave is expected to be available at select retailers and HPshopping.com on October 2, 2016. HP Elite Slice will be available at a starting price of Rs 62,990 and will be available for shipment starting October 1.
Share:
loading...