Fastest broadband internet speed in India: Jio GigaFiber vs Airtel vs BSNL vs Hathway vs others – Here's the winner
Fastest broadband internet speed in India: Jio GigaFiber vs Airtel vs BSNL vs Hathway vs others – Here's the winner
Fastest internet provider in India: Reliance Jio GigaFiber has once again topped the list of fastest speed provided by Internet service providers in India while Airtel stands at the fourth position and BSNL at 14th followed by Tata Communications at 15th, according to Netflix ISP Speed Index report of February 2019. Jio GigaFiber has been dominating the Netflix ISP Speed Index chart since its launch in September 2018. It has consistently provided speeds above 3.41 Mbps.
As per the latest Netflix ISP Speed Index, Jio GigaFiber provided 3.61 Mbps speed in February, previously it was 3.58 Mbps. Jio GigaFiber was followed by 7 Star Digital, Spectranet, Airtel and Atria Convergence Technologies at the second, third, fourth and fifth positions. Their speeds were 3.43 Mbps, 3.34 Mbps, 3.29 Mbps and 3.03 Mbps, respectively. BSNL provided a speed of 1.96 Mbps, 1.77 Mbps was the speed of Tata Communications.
Read more ↓
Placed at the 13th position, MTNL provided the speed of 1.99 Mbps in February. Other broadband providers in the top 10 are ATRIA Convergence Technologies, YOU Broadband, Hathway, Syscon Infoway, D-VoiS, Excitel Broadband.
The 11-15 ranks are occupied by Alliance Broadband, Tikona, MTNL, BSNL and Tata Communications.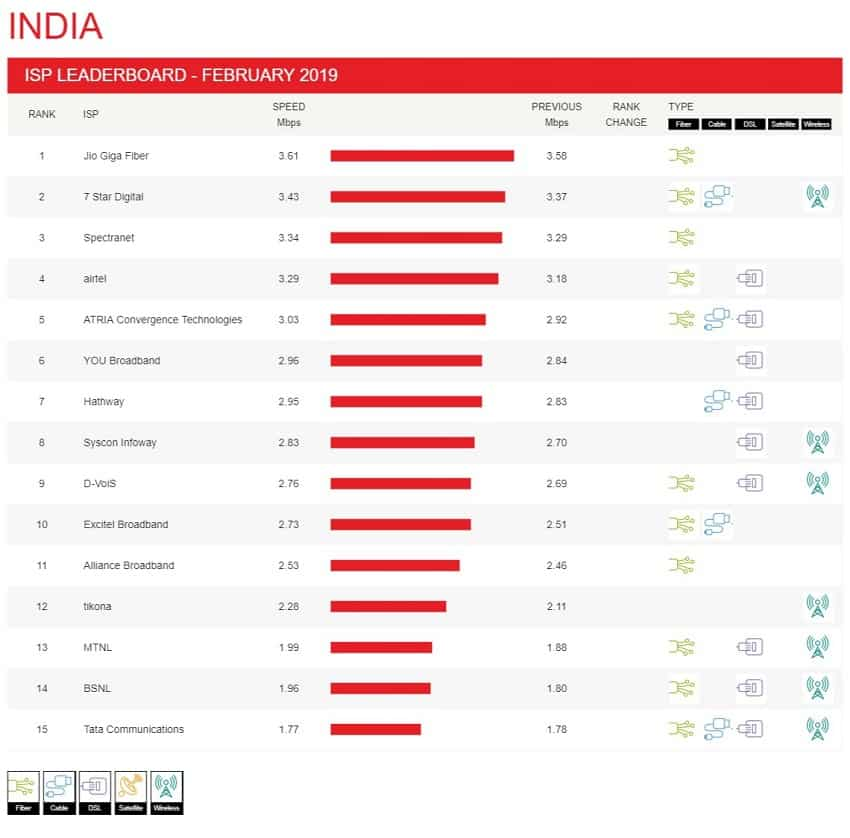 Jio GigaFiber is yet to be officially launched. Currently, it is offering a complimentary preview offer to users.
Source:- zeebiz
Share:
loading...